Some authors just want to make you feel good. But Paul Pen is not one of those authors. Nothing is held back in this brutal story that reveals what a family might do to stay together. The Light of the Fireflies is written by Spanish author Paul Pen and translated into English by Simon Bruni. The themes might be summarized down to secrets, lies, and self-preservation.
Plot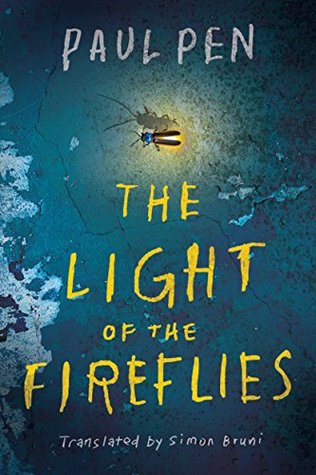 The first part of the story reveals that the family is living in a basement and the tone is so sinister that none of the characters have names, just the boy, Mom, Dad, sister, brother, etc. That alone told me something was off in this story, and it didn't disappoint. There were various twists as the narrative went between different points of view in three parts of the book.
By the ending, you understand what happened to put them down there in that basement. Your perception of who is good and bad in the story might change a few times throughout. It's unsettling, but I think all together it's a good experience to have and to compare it to your life. How often do we think we know the truth about something only to realize we have been living a lie?
This book left me with a lot of questions and wondering, what would I do in that situation? I like to think that I am a person of honesty and integrity. However, when it comes down to values, I've observed that for many, family takes the #1 position and it may force them to make difficult decisions. Since I have never been particularly close to my family, this is hard for me to comprehend. Perhaps some of you can relate. I would love to hear how you feel about the decisions made in this book! Feel free to share your comments below.
Messages
While I don't want to give away any details because I do encourage you to pick this one up for yourself, I will share the following messages that I picked up from this piece based on where I am in my life right now.

You can convince yourself to believe anything you want, it doesn't matter if it's right or wrong. This seems especially relevant to me at this time when we are all debating whether or not to get vaccines, whether the government should be deciding for us, and all that jazz. Whatever you want to believe, you will find the evidence you are looking for. There is no real truth, only perspectives. Once you are aware of that, you can choose to look at things from the perspective of someone who fully believes in what they see, or someone who knows that what they see is only one layer of what reality might actually be.
People are wired for survival and when it comes to family, there is nothing they won't do to be together. This was hard for me to grasp because I am not sure I am part of a family that would go quite so far to protect their own. However, I guess I wouldn't know until it was too late in a scenario like the one in the book. I understand that mothers have a natural instinct to protect their kids, but I wonder if at some point they also believe their children are fallible and have to take responsibility for their actions. What do you think?
Favorite Quotes
"At that moment, the fireflies in the jar came back to life to glow brighter than ever."
"A door loses its meaning if you don't ever go through it. It becomes a wall."
"Maybe the day has come when his desire to know is stronger than his fear of the unknown."
Recommendation
I recommend reading The Light of the Fireflies with an open mind. Allow yourself to be swept away in the story. Let yourself go down into that basement and feel all the feelings. It won't all be pleasant, but that is exactly why I believe it's worth reading.
Where to Buy Books