Are you the type of person that waits until you finish one thing before you start another? Not me, I currently am reading five different books simultaneously. Some people think this is crazy, but reading multiple points of view has led me to some of my greatest insights. Additionally, it means if I am not in the mood to read one book, there is likely another that fits the mood that I am in. Right now I am in the process of reading five very different books. Here is a quick rundown of them.
The Puma Years by Laura Coleman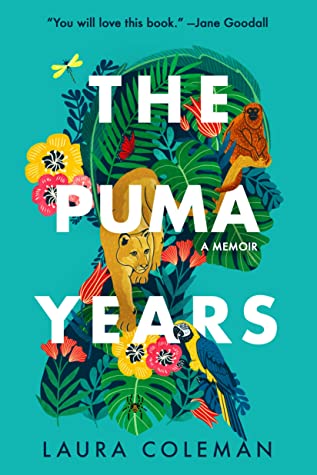 I came across this memoir completely by accident with Amazon kindle notified me that there were 10 free downloads available for World Book Day. I found I couldn't tear my eyes away from this text. The descriptions of the Bolivian jungle are absolutely stunning and the adventure described here is something that is hardly possible to imagine in 2022. In a world that is all about sterilization and safety and prevention, I loved the escape into this place where everything goes. Monkeys sleeping in the dorm beds with humans, taking pumas on walks, and fighting forest fires with their bare hands, the volunteer experience that Laura Coleman experienced was out of this world.
I actually finished reading the book before I finished writing this post. Toward the end of the text, she acknowledges that much of the way she lived in that jungle is no longer possible today in a world where everyone is connected to technology all the time. This is a read that I recommend to anyone who loves real-life adventure. Even better, if you buy her book, most of the proceeds go to CIWY, a Bolivian NGO that manages three wildlife sanctuaries and gives homes to animals rescued from illegal wildlife trafficking.
I really enjoyed the personal insights shared in this memoir, and I am looking forward to digging into another one that was shared for World Book Day called North to Paradise by Ousman Umar.
Good Citizens by Thich Nhat Hanh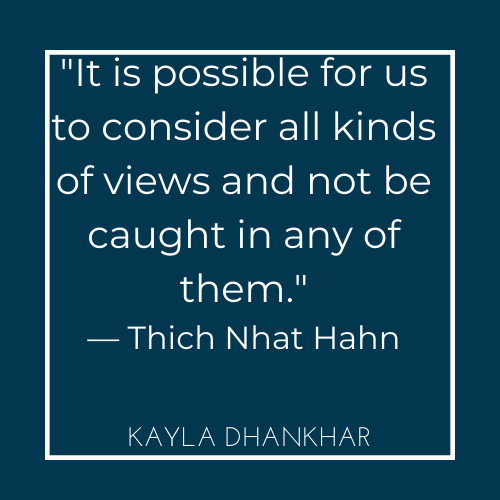 Thich Nhat Hanh has such a way with words, and it shows in "Good Citizens, creating Enlightened Society." As I reviewed my notes to decide what I can say about this text in a short paragraph, I saw that I have already highlighted over 60 passages in this book, and they all are beautiful and led me toward feeling more at peace with the world. Within the first 5 pages, this comes up, "We practice meditation and mindfulness not only for ourselves; we practice to relieve the sufferings of all beings and of the Earth itself." I love the simple purity of the messages in this text. There are beautiful metaphors that shift entire perspectives.
Some of the topics that I have learned about in this book are change, death, separation, suffering, pain, love, and compassion. The goal of this book is to contribute to a shared global ethic, based on the Four Noble Truths. This is meant to speak to people of all cultures, religious faiths, and political beliefs. If we learn to follow this path, we will learn to think, speak, and act in new ways. If you want to be someone who brings joy and ease and helps transform intolerance, dogmatism, attachment to views, discrimination, and violence, this book might be for you.
The Four Winds by Kristin Hannah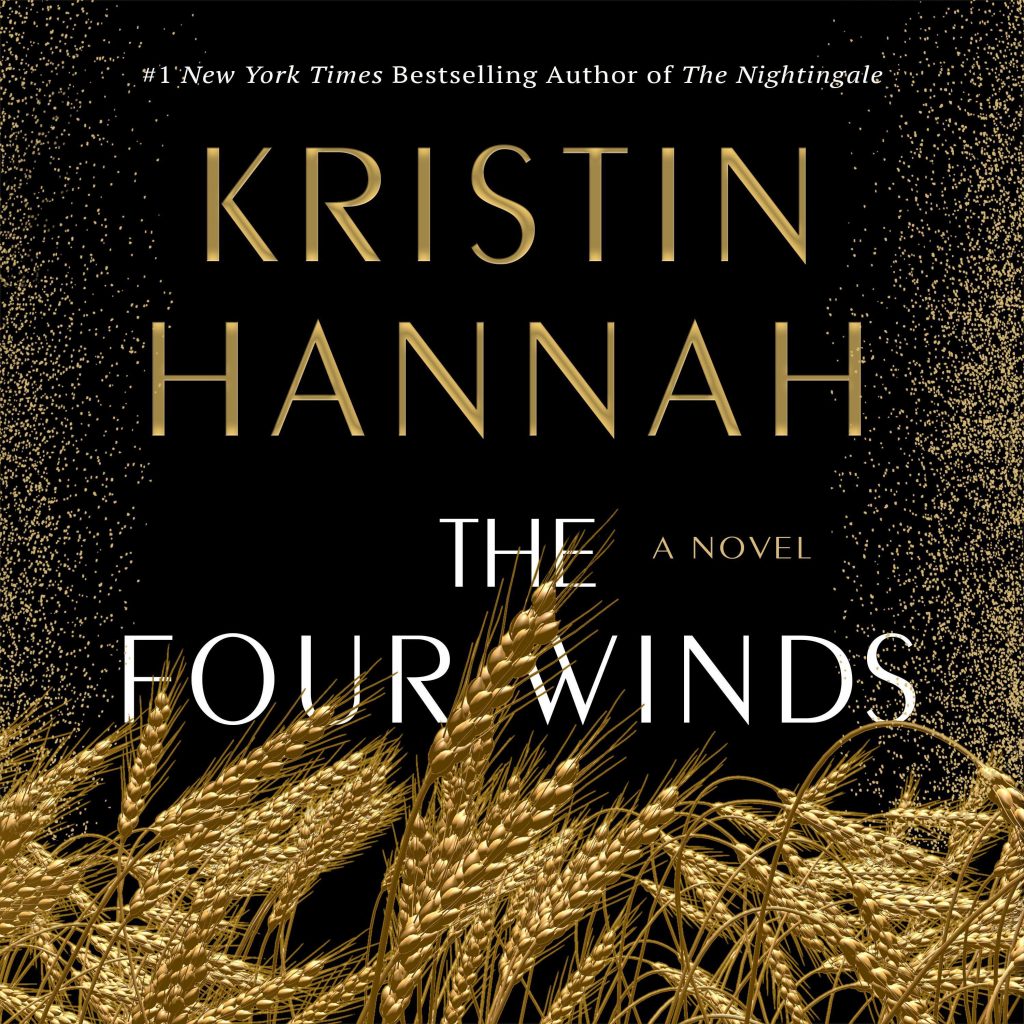 This book just kept coming up in my recommended library books and finally, I downloaded it to see what all the fuss is about. It takes place in the US around the 1920s I would say, and follows the life of a young woman, Elsa. She is 25 years old, tall, skinny, and unmarried which in that day made her a spinster. So far I am fascinated with the way she has been treated and the spunk she has to go out and do something different with her life. It's quite different than the other books I am reading right now.
However, I am not sure where this adventure is going. It's one of the books I am reading right now but I haven't gotten very far into it. I already have the feeling she is going to end up settling down in her own area just like everyone else, have babies, and get married. But perhaps she will do it in her own way. Just writing that I realize I have a certain judgment in me for that very lifestyle. An interesting observation as I try not to judge people. I wonder what is important for me in that scenario. But I will ponder that on my own and do some journaling.
Back to the story. Elsa has a special energy about her that says she is gaining courage. She is not afraid of what the neighbors think, and that makes her different than most women of that time. Perhaps that is still different. I am looking forward to seeing where this young woman ends up, and perhaps I will share more about it when I finish this one!
What Every Body is Saying by Joe Navarro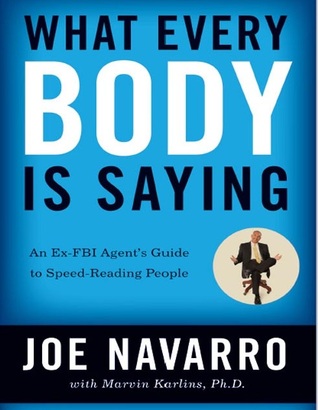 We all read body language on some level, but Joe Navarro gives you the details to take this to the next level in his book, "What Every Body is Saying, an Ex-FBI agent's Guide to Speed-Reading People." I realized that I was really honing in on my body language reading skills as I live in a country where I don't speak the language. Since I can't focus on WHAT people are saying, I am more able to see HOW they are saying it. It's amazing how much I am able to learn about the interactions people are having this way, and after reading this book, I am excited to see how much more I can discern about when people are being genuine and when they are concealing something.
I like that this book breaks things down into parts of the body, you get a section on what the hands do, another on the feet, and so on. I found it enlightening to know that the face is the least trustworthy part of the body to read since we all are trained on some level to control the expressions we wear on our faces. Since most of my interactions these days are on Zoom, I am a bit disappointed to hear that! I am taking the opportunity to study people out in the open, and especially to be aware of what my own hands and feet are saying when I am interacting with others! If you want to be a more effective communicator and be able to read between the lines, I recommend checking this one out.
I find myself using what I have learned here to analyze the characters in the other books I am reading right now! I wonder how many authors use this type of knowledge to describe their characters.
Eastern Body Western Mind by Anodea Judith
This is the trusty paperback that I turn to when I am not in the mood to look at screens or listen to audio. Sometimes I go to it intentionally because I am ready for some healing, and this book is designed to guide me to that. Other times I just want to read, so I underline and bookmark things to go back to when I am in the mood for deeper work.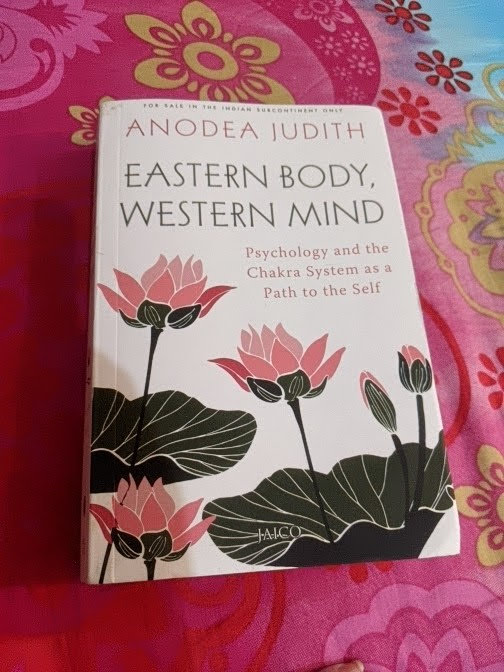 So far this book has me taking a much closer look at my root chakra and the time when it developed, from fetal development into the first few months of life. While I have a loving family, I do believe my mother was completely overwhelmed in this stage of her life. She was 21 years old when her brother and his wife passed away in a tragic accident leaving behind three kids. Eight months later I came into the world, so in less than a year she went from no kids to 4 kids. I can't imagine what that must have been like. Not to mention the emotional states of the three "siblings" I grew up with who experienced such a sudden loss of their parents.
Healing this way is not about blaming anyone, but simply acknowledging that I didn't develop a healthy chakra system due to the environment that I was born into. As I continue to read this book, it will move up into the higher chakras and guide me through healing each one. I am taking this book slowly and will probably have it on my "reading now" list for months to come.
Conclusion
I love being in the middle of a variety of books. I vary the medium enjoying audio as well as ebooks and paperbacks. But I also like a mix of fiction and nonfiction.

I would love to hear what you think about reading multiple books at the same time! What are you reading right now?