Have you ever wondered why you met a certain person? Or realized that someone was in your life for a reason greater than what you can understand?
I have known from the beginning that what I have with my partner is something special but I feel like sharing some of the evidence that this person is here in this lifetime with me to help me grow and expand.
How We Met
First of all the story of how we met is like a fairytale story. These things just don't happen in real life!! Or they do, because well, it happened.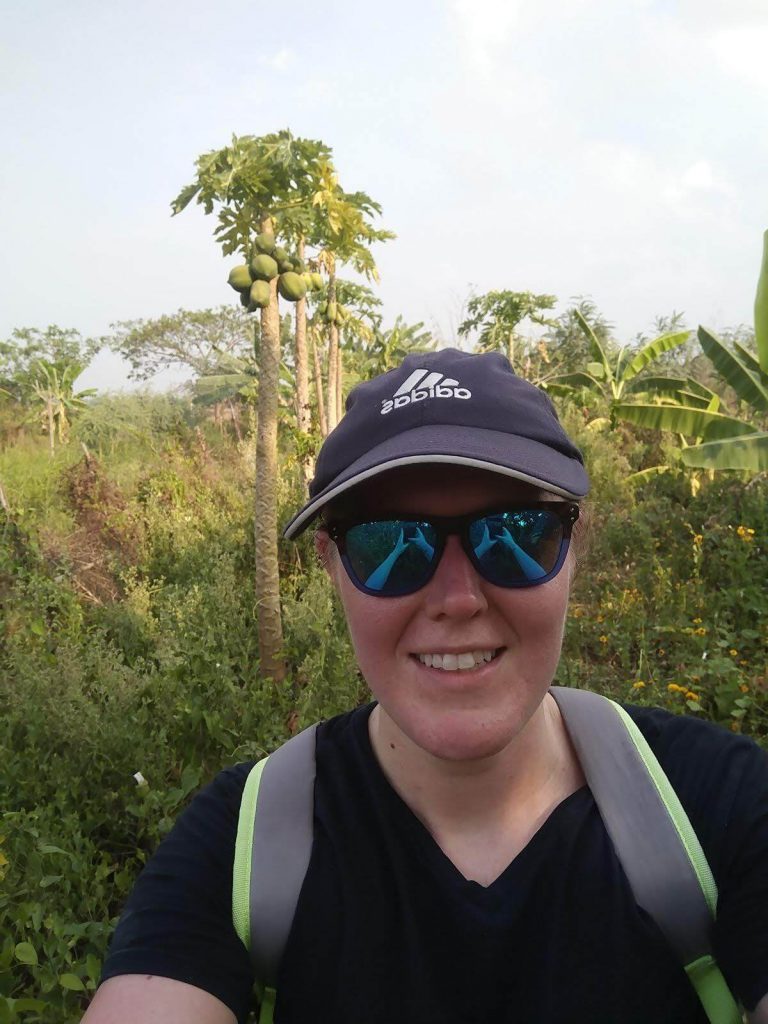 I was in Myanmar as a tourist visiting a friend I had met teaching in Spain. I planned to stay for 3 weeks, and then continue backpacking around Europe and then return to Spain. At the time, I believed Spain was my true home, the one place in the world where I felt peace.
But in the first week I was in Myanmar, I met someone. It wasn't like I was looking for a partner of any kind. I had ended a long-term relationship with a woman about a year before, and I certainly wasn't looking to enter into anything serious.
But the energy between us was STRONG. Over the three weeks I had in Myanmar we went on many dates and I felt sad to leave. He actually inspired me to start my first blog, which you can read here. I decided to stop back in Myanmar at the end of my three months before returning to Spain.
Instead, I only ended up staying out of Myanmar for a couple of weeks. I went to Vietnam, where I had a great time. But when he was so insistent that if I didn't come back to Myanmar he was coming to Vietnam to meet me, I decided to return.
Thingyan in Myanmar
In Myanmar, there was a long holiday called Thingyan. It was ten days when he would not have to work and he wanted to show me the country. While I had been there, I only stayed in the main city, Yangon. So I flew back feeling a little bit crazy. (Now I know this is what following my intuition feels like. )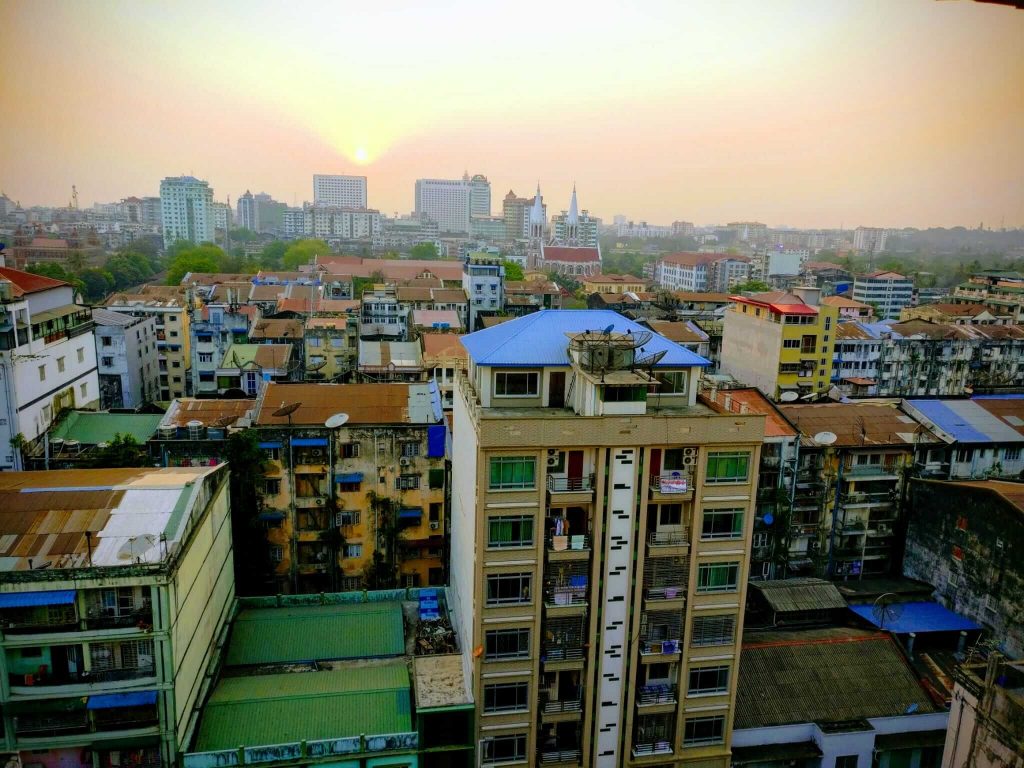 Was I really going to go on a 10-day road trip in Myanmar with a guy I had only known a few weeks? It turns out I was. And while it was one of the most amazing experiences of my life, it was not without its difficulties. He proved to me over and over again that he saw me for who I really am, and that he accepted me 100%. Something I wasn't even quite ready to do for myself.
At that time in my life, I often used alcohol as a way to escape my emotions, and when it came to really tough stuff, my instinct was to run away. We had a rather dramatic scenario like that which I have shared about before here, and it was honestly one of the first situations that showed me just how special this relationship could be. At that point I knew that no matter how long this lasted, he was in my life for a reason. I was definitely going to learn and grow from the relationship.
Remaining Independent
In the coming months, I did eventually go back to Spain and took a course, but when the course was over I found myself back on a plane to Myanmar. While Myanmar is a fascinating place, I can't say I was going back for the country. What I felt was too overwhelming to ignore. I fully accepted that I had no idea what would happen in the future, and this may just be a crazy love story that would leave me heartbroken and homeless in a few months, but I was ready to take the leap.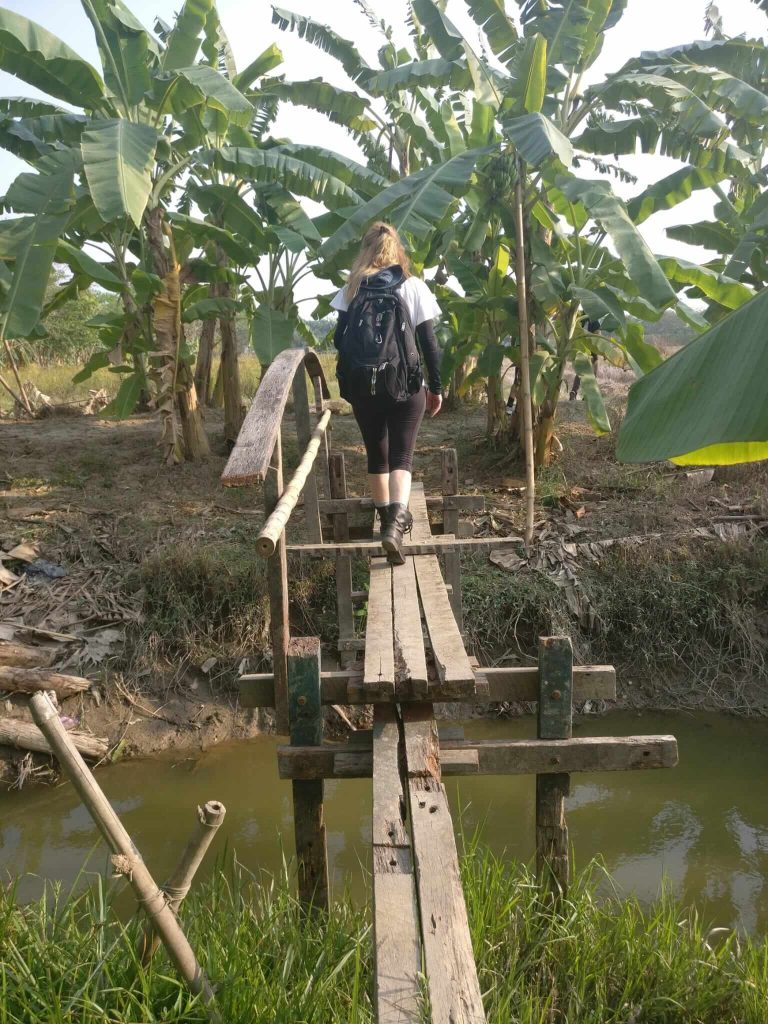 I was working online as an English teacher at the time with a platform based in the Philippines. I also had some private clients and did random jobs transcribing and translating. Really I was doing whatever it took to get by. I also was enjoying studying some coaching modalities to help me learn to manage my emotions better and get more joy out of life.
As time passed, I wanted to remain independent, but my online teaching job was becoming unstable. My partner encouraged me to take a break from this job, where they were often not even paying me the amount I had earned, to pursue what I was really passionate about.
I was able to release any worry about finances and just learn and grow my coaching business from the beginning. I still did some of my teaching and brought in a bit of income, but it certainly wasn't enough to support myself. I struggled with the feeling of relying on someone else and what it meant for my independence. I thought being in a relationship meant giving that up, but he taught me that I could remain independent in a relationship with him. It was a really powerful and beautiful lesson that I am so grateful for today.
Getting Married
Two years later, I was still in this beautiful relationship. It felt like it was something strong and steady that I could build a future on. And for some reason, I suddenly felt like getting married. It didn't make any logical sense to me as I have always seen marriage as a religious contract that people enter into for their spiritual traditions. I never imagined I would do it for myself. But the voice in my head was insistent.
When I told my partner, he was not on board at first. But something pushed him along as well and we found out how we could get married in Myanmar. A few weeks later, we were standing at the altar professing our love for each other. This was in February 2020. We hadn't taken the time to plan a big party and invite everyone we know. It was intimate and quick. Just weeks later, we were asked to evacuate from Myanmar due to the Covid-19 pandemic. This was definitely happening for a reason.
Was the marriage for a reason?
If we had not been married, it is unlikely we would have been able to travel together at that point in time. I have heard countless stories of partners being separated for months or longer due to the rules and regulations that were enforced when countries began to close their borders. By the time we were asked to evacuate, India had already asked its citizens not to return and closed their borders. My partner didn't have a visa to visit the USA, but since we were married, I asked the US embassy for an emergency visa and they granted it quickly.
We went to the US and ended up staying there for nearly 6 months before we were able to return to Myanmar. I am so grateful that we managed to get married before all of that happened. The time that we spent together throughout the pandemic has also shown me how much he is on my path to help me grow and to stretch me toward fulfilling my full potential.
One Example
Now we have been married going on three years, and what prompted me to even write about this is the small actions that he takes without even realizing how important they are for me on my journey.
For example, earlier this year, he purchased a ton of art supplies. He bought canvases, paint, and brushes, saying it was all for my birthday although it was weeks too early. Just a day or two later, I was in a session with a channeler that told me, "It's time for you to paint more, create more big paintings." I had been focused more on digital art but somehow he had anticipated that this was coming and provided me with all the materials I needed to take action.
In the following weeks I was painting like crazy, covering one canvas after another. Although he doesn't care so much for art, he is always supporting me and happy to see me doing what I love. I know I painted all of those pieces for a reason, even if it has only recently become more clear to me what they are for.
How He's Still Surprising Me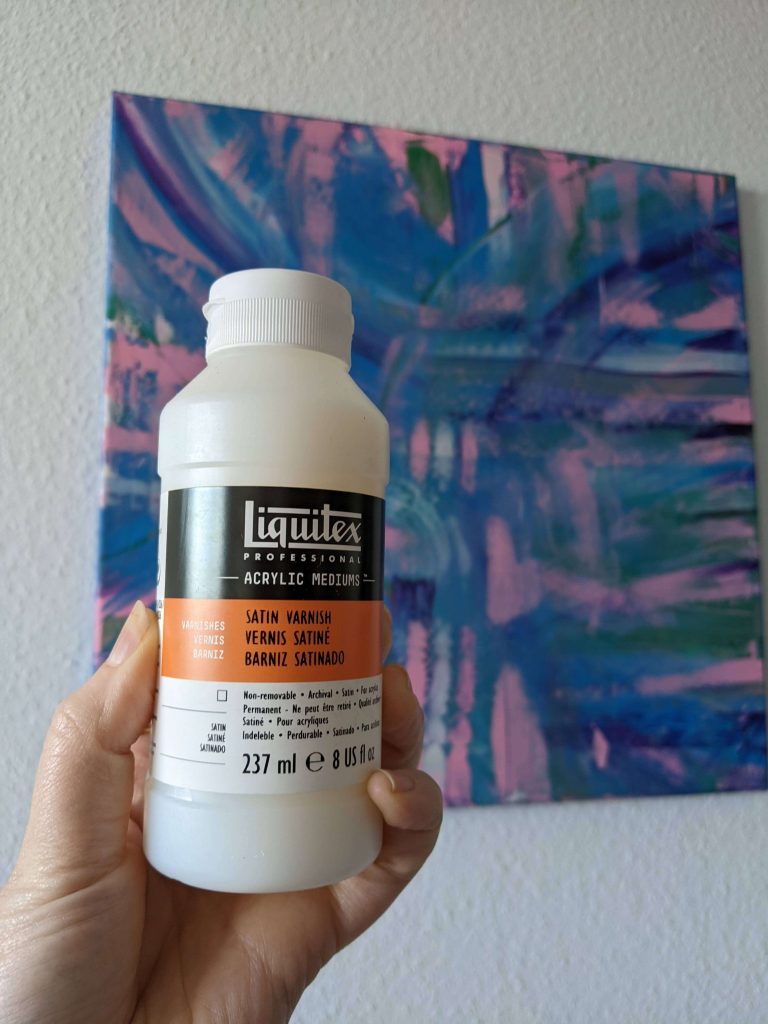 Just this past week, I again saw the same channeler and she told me again, it's time to sell your bigger pieces of art. I didn't talk to my husband about this as I know he wouldn't understand what I am doing talking to a channeler. But I was thinking to myself, I need to research how to make a painting as professionally finished as possible if I am going to put large prices on what I have been creating. I wanted to find a way to seal the paint so they will last a long time.
Yesterday the doorbell rang saying we had some packages. I was confused but when my husband retrieved them, he showed me a bottle. He said, "Can you check this, it looks too liquidy to be paint, but I got it for you. " I took the bottle from him and it said, "Acrylic Varnish." I was so confused. How did he buy the product that I didn't even know I was looking for yet!?!?! I expressed my confusion to him and he just shrugged like he didn't know.
He also gave me a bottle of frankincense oil. I figured he had seen the almost empty one sitting on the counter that I had left out to remind me to look for more. But when I picked up my bottle I realized it was in German. I asked him, do you know what this is?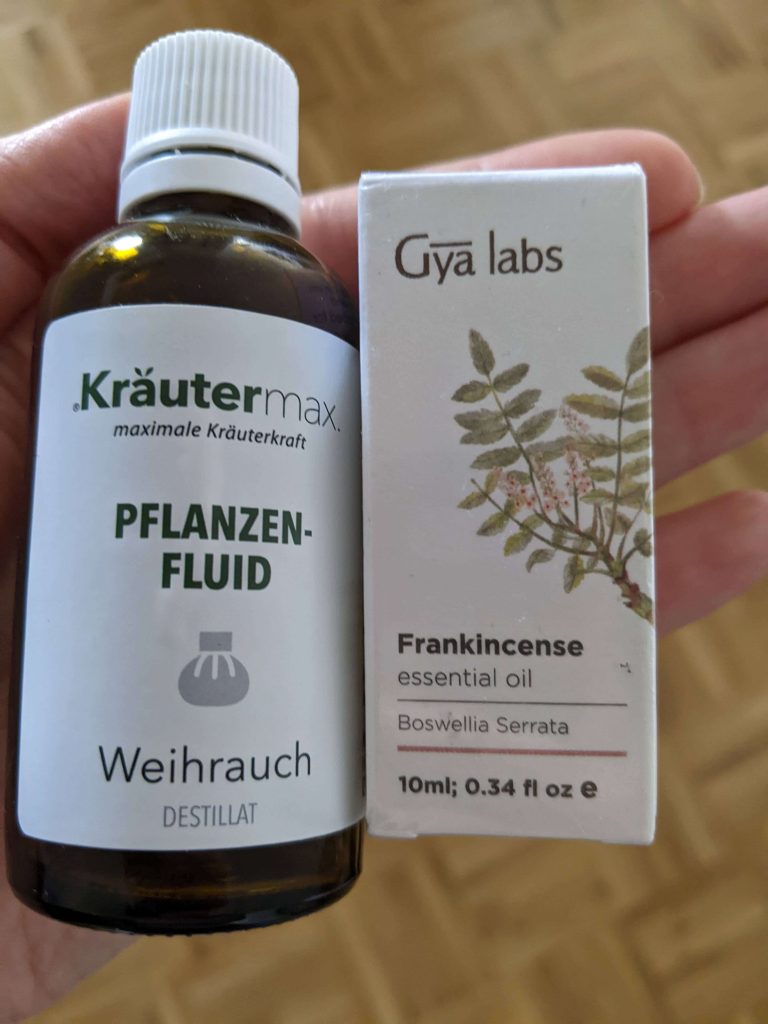 "Some kind of alternative medicine?" he guessed. "Like what?" I asked. "I don't know, why?" he asked.
When I explained it was the same essential oil that he had bought me it was like he didn't believe me. "I just got this one because it was on sale and it looked like something you would like."
Well, that is what he does. He can't pass up a deal, even if it's on something he doesn't need, but that's beside the point. He is tuned into my needs and is always taking care of me without even realizing it. It just proves to me over and over again that we are together for a reason and I am so grateful that I am aware of this beautiful connection that we have.
What's the Point?
The whole point of this is to say that some people are really in our lives for a reason. We can't explain all that they are here to help us with. I know my partner offers me more support than I ever dreamed I could receive from a single person. He surprises me in the strangest ways by knowing when I need to talk, knowing when I need a hug, or just some company. While he doesn't believe in the spiritual practices I do, he never judges me. His intuition is spot on, even if he doesn't do the work to cultivate it.
So ask yourself, who is here on my path for a reason? What am I learning from them? What has our journey been like? It makes life just a little more magical when you start to realize the how intricately it has been orchestrated.